Breathe! Online Course
Tap into the power of the breath
with
About the course: Access hidden potential
We all breathe but very few people realise how breathing well can transform almost every aspect of life. There are simple breathing principles that can help with stress, anxiety, sleep, confidence and so much more. Best of all, you can practice anywhere and it only takes a few minutes a day to see amazing results
.
My aim with this course is to equip you with the ideas and practices to make your breath a powerful tool that helps you live your best life!
What you will learn:
✅ To use your breath to reduce stress and enjoy life!
✅ To exercise more efficiently so you can live with energy
✅ To strengthen your concentration and self-confidence
✅ How the breath can help you understand your place in the universe
This course gives you access to 6 pre-recorded sessions, to be watched over 6 weeks. Each session, we will breathe together so you can experience for yourself the benefits of these principles. We will explore the science of WHY breath practices are so powerful. As you deepen your understanding of your breath, be empowered to transform these practices into a way of living that helps you live life to the fullest.
Week 1

Simple Principles for
Powerful Breathing
You breathe around 20,000 times a day, those breaths have a profound impact on your mind and body. You'll learn the simple yet powerful principles of 'functional breathing' - how to breathe so that you function at your best.
Week 2
The Art of Holding Your Breath

Take a "deep breath" is common advice for stress. And yet, I will share with you why in fact it is precisely the WRONG thing to do. Instead we will explore the healing art of holding your breath.
Week 3
Breathe and
Understand Yourself
Many, many cultures around the world believed the breath had a spiritual dimension: to understand the breath meant to understand yourself. We'll explore how this could be the case...
Week 4
Find Freedom
through the Breath
Placing your awareness on your breath is like putting your mind in neutral. You're not going anywhere dangerous. We'll explore how you can use your breath to find freedom even in the most challenging situations. We'll also explore an ancient Daoist breathing practice called "True Breathing".
Week 5
How to Relax on Demand


5 weeks in, the breath is becoming a powerful tool to help you 'relax on demand'.
I'll share more examples of when you can use the breath to help you in everyday life. We'll also get deeper with Daoist "True Breathing".
Week 6
Eat Well = Breathe Well?

In our final session, I share the fascinating story of how what we eat affects how we breathe.

And, how a simple change to your diet can transform your health.
Who is this course for?

Anyone who breathes!

No, really. If you are a beginner, have anxiety or depression this course will be really powerful for you. I will gently guide you to reconnect with your breath and with time the breath will help you during stress.
If you are already on your breath journey, welcome! We go deep into the philosophy of the breath as well as more advanced practices like the "Daoist True Breathing". I believe you will get a lot of value out of our time together!
What's different about the course?

We'll breathe together
Being present with the breath is an easy way into mindfulness and meditation. Experience the transformative power of the breath for yourself!

We'll move!
We'll move with the breath through easy-to-follow Qi Gong moves.
Wear loose clothing.

Take home actions
Each session, I share printable hand outs with actions for you to deepen your practice.

We'll play!
We can be sincere without being serious. I invite you to join these sessions with the spirit of exploration and play!
Free Bonus #1: Access to the "Breathe Easy" System
Worried you won't have time to practice? Or it's going to be hard and confusing?
I've created a guided practice system based on behavioral science that makes breath practice easy and enjoyable so that anyone can do it.
After each session you'll receive Action for the Week print offs with ease practice ideas to do each day. Finally, you'll be able to move mindfully, everyday with effortless ease.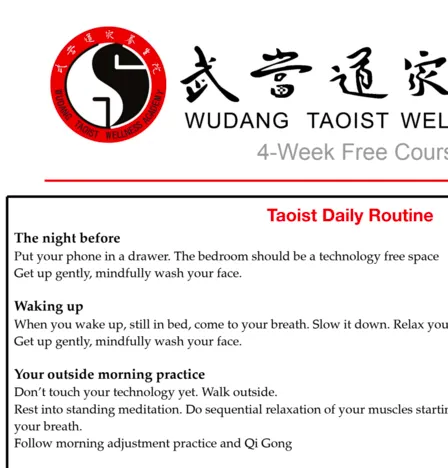 Learn in community
No breathwork community where you are? The course gives you access to Wayfinders learning community. Through meet ups and chat rooms, make friends and deepen your understanding of yourself in community!
About George
I'm a filmmaker and communicator of Daoist philosophy: the Way of Nature. My films have been watched by millions and over 200,000 subscribers have joined for the on-going adventure.
Tai Chi and Daoism have transformed my life. After 7 years of exploration and practice, I've learned not to take my harsh inner critic so seriously. I've felt more joyful and connected to our beautiful living planet. I better understand our societal problems and the way back to balance.
I am no Master or Guru, I am a life long student of the Dao. But I hope and believe that you will get a lot of value out of our time together. I invite you to get deeper with me in the spirit of exploration.
200k+
  subscribers      
1000+
course students
Some of the Dao Teachers George has learned from:
Master Gu
Taoist Tai Chi Master
CC Tsai
Cartoonist and Philosopher
Edward Slingerland
Professor of Neuroscience & Eastern Philosophy
Deng Ming Dao
Daoist Author
So how much does it cost?
I've had THOUSANDS of students join this course and I've been touched by how many people share their lives changed for the better. As a student you get lifetime access to 10+ hours of my best attempt at distilling transformative ideas and practices into FUN and ACCESSIBLE learning.
Each course has beautiful HD recordings, action for the week print offs, community discussion groups and much more. The breath course is designed to equip you with the tools that EMPOWER you to live your best life.
So how much does it cost?
Join the Breathe! course
Get lifetime access to 40+ hours of transformative ideas and practices for
JUST $97 USD
You get:
☯️ Ideas and practices to help you flourish
🫁 6 week guided breathwork curriculum with action sheets
⭐️ Beautiful HD recordings
👭 Learning community
📲 Free mobile app for iPhone & Android
START FREE 7 DAY TRIAL
Free Bonus #2: Taoist Motivational Posters
(Worth $49)
Get inspired by our motivational posters: beautiful photos of Master Gu and George with nuggets of Daoist wisdom.
Print them off, stick them on your phone or computer!
Start learning for free, so you know you've made the right choice
I deeply believe in the value this course can bring to your life. If you take the lessons to heart and practice, you will:
Live with more energy
Joyfully express yourself with your body
Understand how you can contribute to a more balanced world
Make friends
I hope you are excited about what you can learn!
But I understand you may still be unsure if this course is right for you.
I want you to feel the benefits of the course from the moment you sign up.
That's why I am offering:
Free Bonus #3: Access to the Wayfinder Feel Joyful in 7 Days Program
(Worth $99)
As part of your free trial, for the next 7 days,
I'll share with you guided videos, free print outs and checklists. Providing you with a super easy way to get practising, energised and joyful!
That way you can be confident about how impactful this course will be for you, for no risk.
If you're not excited about the different this course is going to make to your life, you can simply cancel your free trial, no questions asked.
If you stay on, you'll be charged for the course on day 7, giving you access to the live sessions and lifetime access to the course recordings.
Begin your learning journey with confidence!
Join the Breathe! course


Get lifetime access to 40+ hours of transformative ideas and practices for
$250
JUST $97 USD
 You get:
☯️ Ideas and practices to help you flourish
🫁 6 week guided breathwork curriculum with action sheets
⭐️ Beautiful HD recordings
👭 Access to Wayfinders community
🌎 Weekly LIVE Zoom sessions
📲 Free mobile app for iPhone & Android
Free bonuses:
✅ Bonus #1: Access to the Wayfinder Feel Joyful in 7 Days Program
(Worth $97)
✅ Bonus #2: Access to the "Easy Tai Chi" System
✅ Bonus #3: Taoist Motivational Posters
(Worth $49)
START FREE 7 DAY TRIAL
You will help spread ideas and practices to help people and planet live in balance
I am passionate about making films, courses and communities that help you and humanity live in balance. In the words of Charles Eisentien: "The story creates the system and we create the story." I now have a team of talented creatives helping make this happen. Your course fee supports me and the team to make our vision a reality! ☯️🫶🌎
More learning available with Wayfinder Academy
For the first 7 days you'll get free access to the full Wayfinder Academy, it offers 40+hours of learning in:
Daoism
Ancient wisdom for harmonious living
The Daoists from ancient China developed powerful insights into how we can live in harmony with a natural vitality. I share some of their most powerful ideas, their silliest stories and life changing practices…
Ecstatic Tai Chi
Move with freedom and joy
Tai Chi is not just a movement practice it's a philosophy for life. Come PLAY tai chi. No matter your fitness or stiffness, experience the transformative power of playful movement.
Qi Gong
Become flexible: physically and mentally
One of our basic needs is to move. Every course involves movement, often Qi Gong from ancient China. As we open up our bodies, we open our minds and raise our energy!
Meditation
Develop calm clarity.
Meditation is the core practice to help us live with freedom. As we still the mind, we gain clarity as to who we are really. We naturally become more compassionate to ourselves and others.
Play
Personal growth the playful way 💪✨
We can be sincere without being serious. In all the courses, I'll invite us to be silly together, to smile at the parts of ourselves that we may normally dislike. Be surprised at play's transformative power.
Start learning for FREE with the "On the Way" newsletter!
Weekly ideas for harmonious living
Every Tuesday I share 3 short ideas from me, 2 quotes from others, and 1 question for you to ponder. Ideas you can read in a few minutes to help you, and to help us collectively, find a more harmonious way of being. Join over 25,000 readers, enter your email and sign up for free:
I respect your privacy. No spam. Just high quality ideas. I'll also sometimes let you know about upcoming learning!
Any Questions?
Get in touch at [email protected] and we'll get back to you 🌱☯️
Want to pay in British Pounds?
Bursaries
Wayfinder Academy funds George and the team to create films, courses and communities that help you and humanity live in balance. However, we do not want anyone to miss out on learning due to financial reasons. There are bursaries available, please send us an email at [email protected] if you feel this would be appropriate for you 🙏✨